Family Dentistry in Columbus & Westerville, OH
Trying to find a dentist for your children or teen? On the hunt for a new dentist for yourself? How about finding a dentist that can care for the whole family? We know that you lead a busy life and trying to take the kids to their dental visits while also making time for your own can be a hassle. Dr. John Segnini, Dr. Matthew Latta, and the team at Oak Creek Dental Care make it easier by providing comprehensive dental care to families and individuals living in and around Columbus and Westerville, OH.
Prevention is Key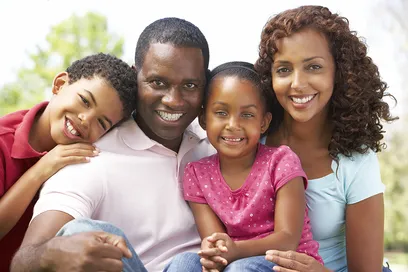 Everyone, including young children, should visit a dentist twice a year for checkups, cleanings, and x-rays. Why? These checkups give our family dental team a chance to monitor and address any concerns or changes in your or your child's smiles. Kids' smiles, in particular, are growing and developing rapidly and we want to make sure they are reaching all of those milestones. By bringing them in twice a year we can make sure that everything is developing properly while also cleaning you and your family's teeth to reduce the risk for cavities and gum disease.
Visiting a family dentist could actually save you money. Dental insurance covers the cost of your routine checkups every six months to prevent costly dental issues from happening in the first place. By simply turning to us twice a year you could prevent the need for unnecessary dental procedures, which can take up more time in your schedule and can cost you.

One of the major benefits of a family dentist is that they specialize in dental care for all ages. Here at our Columbus/Westerville, OH practice, Dr. Segnini and Dr. Latta and their team have worked with children as young as one year old up to seniors. We have received specialized training to be able to provide our patients with the care they need for all stages of their life.
This also means that you and your family can get all of your dental needs met in just one convenient location. Since our patients can't outgrow us, we have patients who've been coming to us time and time again for many years.
Are You Looking For Dental Care For Your Whole Family? Oak Creek Dental Care Offers Dental Care For Patients Of All Ages In Columbus/Westerville, OH. Call (614) 882-5525 Today!